Chartered Psychologist, Yoga Teacher and Health Coach, Suzy Reading.
We all know that we need to look after our mind and body to feel vibrant and healthy. But when life gets full, as is inevitable over the Christmas and New Year period, often our self-care routine gets dropped…we're too time squeezed, sleep deprived, fatigued to fit it in. We need a whole new self-care toolkit to sustain us through the silly season – bite-sized 'micro moments' of nourishment that we can turn to throughout our day. It pays great dividends too to observe how the winter season affects our mood and energy levels. By choosing activities that respect those seasonal variations, we are better placed to stay on an even keel. Here are some ideas to keep your mind and body healthy, even in the midst of all those mince pies and boozy late nights.
1. Look for opportunities to move and move in different ways. Observe your natural inclinations and be mindful of your energy levels. Be honest about how you feel and allow yourself to make different choices. At this time of year there is a strong impulse to bunker in and hibernate. If that planned run doesn't fill you with a feeling of zest, try moving in a different way. Take a walk instead and use it as a mindfulness exercise, boosting your mood and mental health. If you just want to lie down, then honour that and consider trying some soothing floor based yoga. Here are two different yoga sequences to explore:
A gentle moving meditation with the prayer salute: https://youtu.be/MTkuYWxidWw
A seated sequence to calm the mind and body:https://youtu.be/Eh-1bKJ21AI
2. Carve balance as best you can, between social connection and solitude, stimulation and relaxation, sound and quiet, movement and stillness. It is easy to over commit ourselves with social engagements, busyness and activity. Remind yourself that you have a choice in what you agree to and the nature of those arrangements. A meet-up in January can be just as joyful as a pre-Christmas catch-up. Rather than connection revolving around food, suggest a take-away coffee and a walk together instead or put your skates on and enjoy a seasonal outdoor ice-skate.
3. Pay attention to your sleep needs. Most adults need 7-9 hours sleep every night. Get to know how much sleep you need to function well and make it a genuine priority. Getting to the end of the film might feel like enjoyable leisure time but this is not as replenishing as getting the sleep you know you need. If you know you have a stretch of late nights, make sure there are some early nights or quiet time to compensate. In the absence of good sleep and time to rest, pay attention to your breathing and allow your breath to be relaxed and spacious. This is very soothing for your nervous system. The other great tip to counter Christmas overwhelm is 'earthing the brow' – think along the lines of child's pose or picture Homer Simpson saying d'oh! Gentle pressure against the forehead is very calming. At your desk, fold your hands and rest your head on them to reboot for 30 seconds.
4. Pace yourself and respect your 'Energy Bank Balance'. Run yourself ragged and you suppress your immune system, make yourself vulnerable to burn-out and diminish your genuine enjoyment of the festive season. Tune in regularly and listen to what your body-mind is telling you. Take tender, loving action to deliver what you really need. There is nothing selfish or indulgent about this. Self-care is healthcare.
5. And if you do only one of these tips, please let it be a generous dose of self-compassion. Go gently on yourself. While this time of year can be joyful, it can also be full of pressures, some family tension thrown in there, and for many of us, grief bubbles up. Use the mantra 'I soften into this moment' and breathe your way through with kindness.
About Suzy
Suzy is a mother of two, a Chartered Psychologist, Yoga Teacher, and Health Coach. She specialises in self-care, helping people manage their stress, emotions and energetic bank balance. It was her life experience of motherhood colliding with the terminal illness of her father that sparked her passion for self-care which she now teaches to her clients, young and old, to cope during periods of stress, loss and change and to boost their resilience in the face of future challenges. Suzy is a contributing editor for Psychologies Magazine and the Psychology Expert for wellbeing brand Neom Organics. She figure-skated her way through her childhood, growing up on the Northern Beaches of Sydney, and now makes her home in the hills of Hertfordshire, UK. Her first book 'The Self-Care Revolution' published by Aster, is due out 28th December 2017, and available for pre-order: https://www.amazon.co.uk/Self-Care-Revolution-habits-practices-flourish/dp/1912023202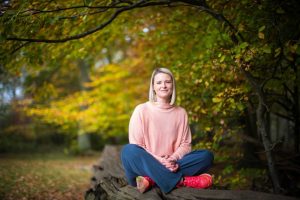 Join Suzy's wellbeing community at:
Instagram: https://www.instagram.com/suzyreading/
Facebook: www.facebook.com/SuzyReadingPsychologyAndYoga/
Twitter: https://twitter.com/SuzyReading