One of the biggest revelations to have hit me when I retrained as a health coach was this: my life until that point had been one long blood sugar rollercoaster. Up until my mid-40s, I was up and down throughout the day and regularly felt starving (even though I was eating constantly). I'd suddenly turn white as a sheet, get very shaky and go from mild-mannered to hangry, cranky and unable to think straight.
How does the food we eat impact our blood sugar?
Last month, I got to have a front row seat watching that rollercoaster in action.
I'd been asked to trial a blood glucose monitor by a groundbreaking company called Theia which helps people see the impact of their diet and lifestyle choices, in real time. They're on a mission to end metabolic disorders across the world.
I jumped at the opportunity. This topic is one I'm deeply passionate about: I've spent much of the past seven years enlightening thousands of people on how blood sugar impacts their health and wellbeing. But I'd never actually witnessed evidence of those ups and downs in myself before.
Armed with my monitor, I experimented with eating the way I used to…just to see for myself what that did to my blood sugar. It was fascinating and incredibly insightful to watch how my system reacted to what I chose to put in my mouth.
Why is blood sugar important?
Keeping our blood sugar in check is crucially important for all of us – not just those of us living with diabetes.
Incidentally, there has been an unprecedented explosion in the number of people under 40 being diagnosed with Type 2 diabetes. Experts also warn that hundreds of thousands of people in the UK alone are currently walking around with prediabetes or Type 2 diabetes – without being aware of it.
My own family, on my Mum's side, is riddled with Type 2 diabetes – including my maternal grandma, Bella, who I'm named after (via one of my middle names). I never got to meet my grandma. She died before I was born, on Christmas Day, at the age of 54. That's just a couple of years older than my age now.
Blood sugar and menopause
Managing my blood sugar is even more important for me now that I'm approaching the menopause, when fluctuating hormones make our cells more resistant to insulin. That means our system has to work even harder to manage blood sugar.
Many women see their blood sugar levels rise and fall during this period of their life, leaving them more vulnerable to Type 2 diabetes and heart disease. Plus, higher blood sugar levels are linked to weight gain and fatigue.
All in all, it's not a rosy picture.
So, what happens when a health coach starts monitoring her own blood sugar levels on a daily basis?
10 things I learnt from wearing a blood glucose monitor
Most of the insights below reinforced what I already knew – but others came as something of a shock.
1. Having two Weetabix and half a banana for breakfast (which was my go-to for many years) gave me a huge spike.
I expected this to happen and deliberately chose a day when I wasn't coaching or giving a corporate wellness webinar to test it out. Two hours later, I was in a physio appointment, feeling starving and quite nauseous.
The physio asked if I'd had breakfast and wondered what was wrong with me because my tummy was rumbling so much!
2. My homemade spiced pumpkin and coconut curry with rice looked really healthy… but was a total disaster for my blood sugar.
This generated one of the highest peaks of the whole time I was wearing a monitor. I'd always thought pumpkin was a healthy choice but my system didn't like it one bit – even when I tried it again with black rice and adding in a generous portion of fish alongside it.
3. I don't cope well with rice.
I expected white rice to be problematic but was surprised to see my blood sugar heading skywards even when I swapped it for black, wild rice.
4. Pasta was, predictably, a disaster.
I tested out pasta with homemade tomato sauce – something I used to make for dinner most nights in my 20s and 30s. It sent my blood sugar through the roof.
I swapped the standard pasta for a buckwheat/sweet potato-based pasta, expecting that to be better – but my body didn't like that either!
5. My office lunch of soup and bread didn't work for me.
Leek and potato soup with a huge hunk of bread was something I'd frequently buy for my lunch when I worked in PR. I tested out what happened after enjoying my own homemade leak and potato soup, including lots of fresh cream and butter. It was totally delicious – but pretty disturbing to see what it did to my blood sugar. Yikes!!
6. Crumpets with butter (yum!) were a catastrophe.
I used to eat these regularly at work to keep myself going. Last week, I ate two at 4pm and a couple of hours later felt so ill that I honestly thought I was going to pass out. At the time, I was trapped at a gala dinner, not able to get myself something to eat and having to wait anxiously for dinner to be served.
My friend Shelley, who was sitting next to me, watched in alarm as I disintegrated before her eyes. I felt horrendous. I became shaky and was struggling to understand what she was saying to me. The reading on my phone showed an Eiffel Tower-like spike. This was followed by a precipitous crash, ending up lower than where my blood sugar had been originally. You can see it on the screenshot below. No wonder I felt so ill.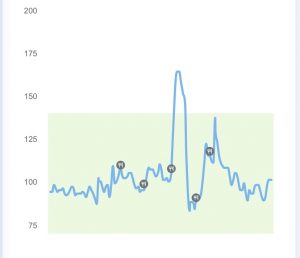 7. Egg fried rice, veggie stir fry and bean-curd sent my reading off the chart.
Who knew?!
8. A slice of sourdough and butter raised my blood sugar.
This is disappointing because I have a soft spot for sourdough. In fact, I learnt to make my own sourdough during lockdown and…guess what? I put on over a stone in weight!
On a happier note, my monitor showed that I could get away with it if I teamed it with scrambled eggs.
9. Porridge gave me a small spike and left me ravenous after less than two hours.
I find it galling that even though I don't particularly enjoy porridge, I made myself eat it for many, many years because I believed it to be the healthiest way to start the day.
I girded myself to eat it last week for the first time in years. It led to a moderate spike. I tried it again the following day, this time adding walnuts on top, and it got a green tick from my monitor.
10. My breakfast of full-fat Greek yoghurt with walnuts and flax and pumpkin seeds got a resounding thumbs-up from my monitor.
Similarly, my lunch of goat's cheese omelette with avocado. This gave a lovely, steady line which is what we want for our blood sugar. Dinner of shawarma turkey, tahini and chopped salad scored well too.
My key takeaways after wearing a blood glucose monitor
I do not cope well with bread, cereal or rice. I also need to be aware that my system is upset by high GI veg like pumpkin.
I feel hangry, unhinged and deeply unwell when my blood sugar rockets and crashes.
Basing my meals around high-quality protein and healthy fats and going easy on the carbs keeps my blood sugar nice and stable.
I feel calm, energised and clear-thinking when my blood sugar is on an even keel.
Have you ever monitored your blood sugar levels? Has my experience intrigued you to make any switches or delve into it more yourself?
If you'd like to know more about how our blood sugar affects us, have a listen to my podcast: Blood sugar shockers! What I learnt from wearing a blood glucose monitor.
If you found this blog enlightening, do sign up for my newsletter here to receive more blogs like this.