Ever more research is showing that, in order for us to be healthy (and happy), we need to look after our gut. I asked my friend Faye Goldwater, co-founder of Loving Foods, for her tips on how we can have a happier gut.
What got you into gut health in the first place?
My brother Mendel, husband Adam and I founded Loving Foods after discovering the power of fermented foods in helping to heal our own health issues. Mendel had suffered with terrible eczema his whole life. He tried every way to get rid of it…with no success. He then started on a gut-healing journey and found part of the answer to his health issues in fermented foods. He finally had clear skin…and it was all down to his gut health!
15 years ago, there weren't many options for fermented foods available, so he started to make his own. His friends would try it and would keep telling him how good it was and that he should sell it. Being something of an entrepreneur from a young age, he started making sauerkraut, kimchi and kombucha and selling it in local markets (very successfully!).
When Adam and I started suffering with IBS and Colitis, Mendel recommended we look at our diet and start repairing our gut. Part of that journey was, of-course, eating fermented foods. We couldn't find much on sale apart from plain sauerkraut, so we started to make our own as well.
We could see that there was a big gap in the market for good quality fermented foods, and so, in 2016, we teamed up with Mendel to launch the business. We found ourselves digging up the back garden to build foundations for the very first Loving Foods kitchen! We started making small batches and selling it at markets. It became popular very quickly and we kept making it, until we outgrew our first fridge. Adam then had to sell his motorbike so we could make room for a large, walk-in cold room. We quickly outgrew the Loving Foods shed and moved, building our very first factory. We're now in the process of moving again, so we'll have more space and can expand our product line.
What's the role of fermented foods in helping our digestive health?
When we consume a combination of probiotics and prebiotics, as part of a wholefood diet, it can help us to achieve a good balance of bacteria in our microbiome, which supports our digestive health. Probiotics are live bacteria which occur naturally in many fermented foods. Sources include: kimchi, sauerkraut, kombucha, kefir, tempeh and yogurt. Prebiotics are sources of fibre that ferment in the gut, creating beneficial bioactive compounds needed to aid digestion. Sources include: artichokes, leeks, onions, garlic and asparagus.

Adding these foods into our diet can be a beneficial step when trying to improve the quality of our microbiome. That, in turn, can improve our overall health and wellbeing.
Can you provide some simple tips on caring for our gut?
On an everyday basis, the advice to build up a healthy gut microbiome community is fairly simple.
Avoid empty high-fat, high-sugar processed foods, which are associated with a less diverse population of bacteria.
Instead, eat a balanced diet bursting with ferments, plants and lots of fibre. Remember: what feeds you is what feeds your microbiome.
Here's our tried and tested advice to get your gut bacteria into balance:
Love your gut with fermented foods and drinks
Unpasteurised organic cultured vegetables, like sauerkraut or kimchi, and fermented drinks such as jun and kombucha, love your gut. They feed the good guys to create and support a happy environment for your microbiome's good bacteria. You can also support this with a good quality probiotic supplement when you need an additional boost.
Eat more plant-based foods
Your gut bacteria loves to munch away on the fibres from plant-based foods. A study by Cardiff University has found a direct correlation between a diet high in a variety of plant-based foods and a super healthy and diverse gut microbiome population. Artichokes, garlic, beans, oats, onions and asparagus are just a few examples of 'star foods' that help your good bacteria to flourish.
Make gut healing a priority
Our intestinal walls can sometimes be damaged or inflamed, and this can cause unwarranted stress on your gut bacteria. Add gut-healing foods such as homemade bone broth or shots of kimchi Juice or beet kvass into your daily routine to keep your intestinal walls healed, healthy and happy.
Look after your gut and your gut will look after you!
What's your mission for the business?
We wanted to make it possible for everyone to be able to eat fermented foods without having to find the time to make it themselves. Our products are all made in exactly the same way as you'd make them yourself at home. We don't compromise on quality, as we care about your health just as much as we care about our own…which is a lot!
The business focuses on producing 100% organic, raw, fermented foods and drinks, all manufactured in the traditional way that has been used for centuries. We're passionate about using the best quality ingredients, locally-sourced wherever possible. Our products contain no artificial colourings, flavourings, preservatives or stabilisers. Just fresh organic fruit, vegetables, herbs and spices.
Every batch that we produce is hand-made and fermented for a minimum of three weeks, packaged in glass (never plastic) and is always 100% raw and unpasteurised. This is critical to the multiple health benefits of fermented food that you may have heard about in the media recently. Most commercial products are either not properly fermented, or have been pasteurised, which destroys all of the beneficial bacteria and enzymes.
Any good recipe suggestions that include fermented foods?
There are many ways to include fermented food into your diet. Here's a lovely egg fried rice recipe to get you started. We have many more for you to enjoy on our website.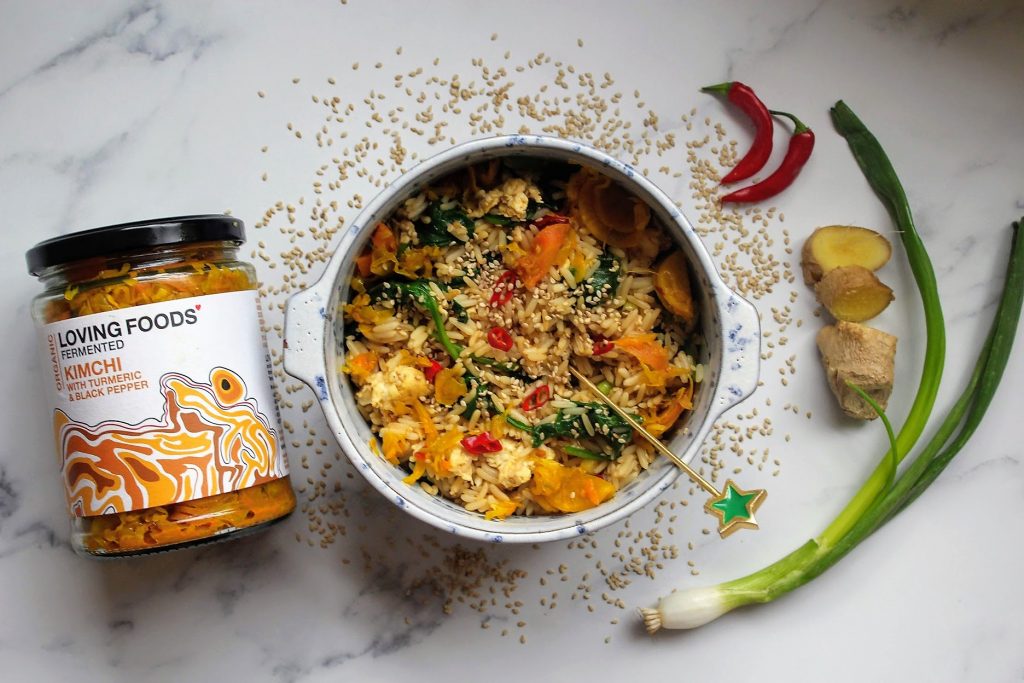 EGG FRIED RICE KIMCHI BOWL
Serves: 2
Prep time: 10 minutes
Cooking time: 20 minutes

Ingredients: 
100g rice
1 tablespoon sesame oil
2 spring onions, chopped
2 cloves garlic, crushed
1 chilli, sliced
Small piece of fresh ginger, grated
3 tablespoons soy sauce or tamari
2 eggs, whisked
Large handful spinach leaves
Salt & black pepper
4 tablespoons Loving Foods Fermented Kimchi with Turmeric & Black Pepper
2 tablespoons sesame seeds
Fresh parsley, chopped
Get making!
Cook the rice according to packet instructions, then drain and rinse.
Heat the sesame oil in a large frying pan or wok. Add the spring onions, garlic, chilli and ginger and allow to cook on a medium heat for 3-4 minutes.
Add the soy sauce or tamari, eggs and spinach leaves and stir continuously for a further 4 minutes, until the egg has cooked and the spinach has wilted.
Remove from the heat and stir in salt and black pepper and kimchi.
Divide between two plates or bowls, sprinkle over sesame seeds and fresh parsley. Enjoy.